What the fuck is going on with some Asian cultures?
China's 'left behind children'.

The case has shone light on the plight of China's estimated 61 million "left-behind" children -- one in five nationally -- that grow up without one or both of their parents, according to statistics from the All China Women's Foundation.
Around 30 million children under 18 have no parent at home and two million fend for themselves with no adult guardian, the figures show.
It's a heart-wrenching consequence of what has been described as the greatest human migration of all time -- some 250 million have left China's poorer inland provinces to forge a living in coastal factory towns and cities.
These families only reunite a few days each year—for the most part during Spring Festival or Lunar New Year, which began on January 31 this year.
http://edition.cnn.com/2014/02/04/world ... index.html
China's 'leftover women':
The sad, strange phenomenon of China's so-called "leftover women" — women criticised for being unmarried over the age of 27 — has left many around the world scratching their heads.Perhaps the saddest thing is that, the Chinese government and other establishments seem to encourage the concept. For example, China's All-China Women's Federation, a group founded in 1949 by the Communist Party to protect women's rights, has this great advice on its website:

Pretty girls don't need a lot of education to marry into a rich and powerful family, but girls with an average or ugly appearance will find it difficult. These kinds of girls hope to further their education in order to increase their competitiveness. The tragedy is, they don't realise that as women age, they are worth less and less, so by the time they get their M.A. or Ph.D., they are already old, like yellowed pearls.
http://www.businessinsider.com.au/china ... ?r=US&IR=T
Yulin annual dog meat festival: Where animal cruelty is rife
Japan's annual dolphin slaughter:
Not to mention their "scientific whaling".
Chinese and others driving rare animals to extinction just so they can grind up their body parts for their stupid voodoo medicine.
Indonesians not giving a fuck about the slaughter of Orang-utans for palm oil plantations (driven by the insatiable need for the stuff from us in the west).
Other cultures do stupid things, like the Canadians clubbing baby seals and the Faroe Islanders and others slaughtering whales and dolphins in a similar fashion to the Japanese. But it seems to me there is a morality or at least some level of empathy missing in some of the Asian peoples across a broad range of species and incidents. The toddler being run over and ignored in China a few years ago was the most shocking example of this:
Gruesome footage of a toddler falling victim to two successive hit-and-run accidents and then being ignored by many passers-by at the scene last week in southern China continued to galvanize the nation Monday, prompting a fierce debate on the state of morality in Chinese society.
A security camera captured the horrific incident last Thursday outside a hardware market in Foshan, Guangdong Province. Two-year-old Wang Yue was seen toddling in the middle of a narrow street and looking around, oblivious to a fast-approaching white van.
The disturbing video shows the van knocking the girl over. The driver briefly stops with the girl underneath the van, before continuing on, its rear tires slowly rolling over her small body. The girl is left barely moving in her own blood as several pedestrians and cyclists pass by.
Minutes later, another small truck drives over Wang without slowing down, the video shows. More passers-by walked, cycled or drove around her motionless body without stopping -- until a woman carrying a sack appeared 10 minutes after the initial collision. Dropping her sack, she quickly moved the girl to safety and went to look for help.
http://edition.cnn.com/2011/10/17/world ... index.html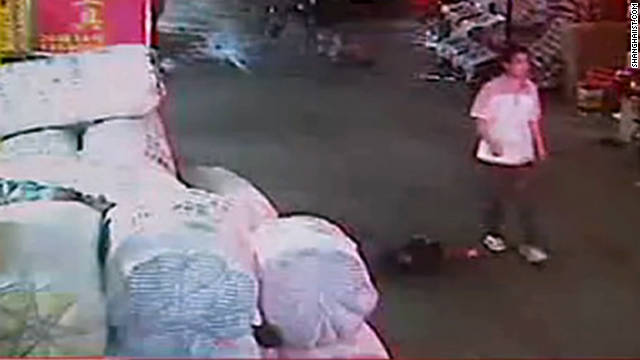 I'm not racist, but what the living fuck is going on over there?!?