Working Class Dude Biden!
Back when he was VP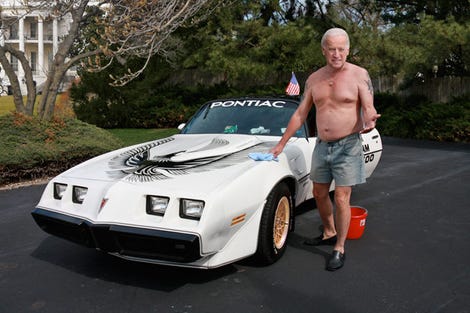 WASHINGTON—Taking advantage of the warm spring weather Monday, Vice President Joe Biden parked his 1981 Trans Am in the White House driveway, removed his undershirt, and spent a leisurely afternoon washing the muscle car and drinking beer.
Vice President Biden ditched a day of presiding over the Senate to "give the twin cannons some sun."
"This baby just needs a little scrub down," said Biden, addressing a tour group as he tucked the sweat-covered top into the belt loop of his cutoff jean shorts. "Gotta get her looking good so I can impress the chicks when I'm cruising down Pennsylvania [Avenue]."
White House aides said that Biden pulled into the driveway shortly before noon, the chorus of Night Ranger's "(You Can Still) Rock In America" blaring from his car's stereo. According to witnesses, Biden spent several minutes maneuvering the Trans Am into the perfect spot, and was observed drumming his fingers on the steering wheel until the song came to a close.
The shirtless 66-year-old then entered the executive residence and greeted employees with a round of high fives and a variety of nicknames.
"Hey, hot stuff, looking good," Biden told a passing aide. "Would you know where I could get a little bucket and sponge action? My mean machine needs to be cleaned."
After acquiring the necessary washing materials, the bare-chested second-in-command returned to the driveway, where he spent several moments staring in apparent awe at the Firebird decal on the hood of his car.